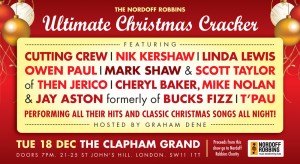 Unfortunately, the 'Nordoff Robbins Christmas Cracker' event at The Grand, London scheduled for Tuesday 18th December has been cancelled.
We have been asked to post this official statement by the promoters:
" Due to unfortunate circumstances that have arisen it has made it impossible for the show to take place this year much to the disappointment of the organisers and promoter. We will of course do our best to try and reschedule the show for next year but for this year full refunds on tickets bought will be available".

To find out more about the Nordoff Robbins Charity, which is a national music charity dedicated to transforming the lives of vulnerable children and adults across the UK please go HERE 
Secondly, Mark Shaw & Scott Taylor will be performing an exclusive acoustic gig in Belfast on Saturday 23rd February as part of the 9th Belfast Nashville Songwriters Festival followed by an Acoustic Workshop. Tickets for this will be available soon via the Songwriters Festival website. They will also be performing a special 'In-The-Round' show also in Belfast, on Friday 22nd February alongside Boo Hewerdine & Henry Priestman.