MEET MARK SHAW OF THEN JERICO AT LET'S ROCK THE MOOR!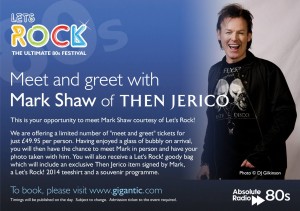 Let's Rock The Moor are offering a limited number of tickets for a "Meet and Greet" with Mark Shaw of Then Jerico.
As well as meeting Mark, you will also receive the following:
– Glass of bubbly on arrival
– CD signed by the artist you are meeting
– Let's Rock! 2014 teeshirt
– Let's Rock! souvenir programme
The "Meet and Greet" time will be advised by email no more than 7 days before the event.
£49.95* per person
*Does not include entry to Let's Rock The Moor! which must be bought separately.
To book, please go to www.gigantic.com or use the "Buy Tickets" link at the top of our Facebook page.